General Information:
After 40 years of oustanding service, Duke Moonwulf Starkaardhersson and Countess Takaya Mereleone are stepping down, so this is the first baronial investiture we've had in 40 years!
Not only are we bringing in a new Baron and Baroness, but we are also hosting a Constellation Regional A&S and Regional Rapier War Practice.
Date & Location
Saturday, April 23rd from 8 AM - 10:30PM EDT
Ross Camp - 9225 W 75 S, West Lafayrette, IN 47906
This is a DRY site, by county law. Buildings are handicapped accessible. The grounds are not wheel chair friendly.
---
Would you like to help make Three Saints an even more amazing event? Volunteer here!
Would you like to help retain for Their Highnesses? Volunteer here!
Other Royal assistance? Volunteer here!
---
Costs
Registration Fee: $15 per person, $5 discount for members.
Family Registration Cap: $30 max per family (feast not included)
Feast: $10 per person
Merchants Fee: No fee, but no indoor space. Bring your own booth and tables.
Animals: No animals are allowed in the buildings and no temporary pens can be constructed for them outside of the buildings. Standalone enclosures and crates are fine. All animals must be on leash or contained at all times and curbed/cleaned up after.
Camping: Ross Camp can provide camping space to interested campers. Online reservations are not available, calls only. As of 4/23 only 2 primative sites remain, but all modern (RV) sites are open.
Reservation Payments: Make Checks payable to SCA, Inc.-Barony of Rivenstar. Please still check in at Troll even if pre-registered.
Send Reservations To:
Fran&ccediloise Katze
4955 State Road 26 West,
West Lafayette, IN 47906


Autocrat:
Sigulf Karlnar (Richard Pierson)
114 Country Squire Ct.
West Lafayette, IN 47906
(765) 426-9809

A & S Coordinator:
Aurora Lucia Marinella
Merchant Coordinator:
Sigulf Karlnar (Richard Pierson)
Rapier MIC:
Master Adam Comyn
Armored MIC:
Lord Orentil
Archery MIC:
Wilhelm of Rivenstar
Royalty Liason:
Gallien le Cavalier de l'Ile (Lyle Janney)
Feast Coordinator:
Marian Hryhorcova (Marion Miller)
Facebook Event:
https://www.facebook.com/events/1236376266389072/
---
Attention
For those who will be bringing children not their own: There are TWO forms that you will need to bring for each child. They both need to be signed by the child's parent or legal guardian. ONE MUST BE NOTARIZED per Indiana law.
1) This form needs the notarization and should be kept with the child at all times: http://www.sca.org/docs/pdf/treatminor-notary.pdf
2) This form is the usual Minor Waiver: http://www.sca.org/docs/pdf/chldwaiv.pdf.
PLEASE have both these forms filled out and signed/notarized where appropriate for each child you will be bringing that you are not the parent or legal guardian of. This requirement is out of our control and the children affected will not be allowed to attend if they are not completed properly before arrival. Thank you.
---
Investiture
These are the words of Their Majesties, Tsar Nikolai and Tsarina Serena.
---
Greetings unto the Middle Kingdom from your Tsar and Tsarina!
We are faced with an unprecedented occurrence in Our Kingdom! The venerable Baron and Baroness of Our Barony of Rivenstar, Moonwulf and Takaya, have indicated that they are finally ready for a rest after a long and distinguished career as the heads of the Barony. We are minded to grant this request as their service has been impeccable. But who could possibly fill such momentous shoes?
Fortunately, many fine candidates stepped forward for consideration. We were well impressed with each, and confident that any of the candidates would look over Our lands in Rivenstar with dedication and wisdom. However, there can only be one Baron and one Baroness and, as such, We have selected Maighstir Adhamh MacAoidh and Lady Malie bean MhicAoidh to serve in this role.
Their elevation shall occur at Feast of Three Saints and Constellation Regional A&S on April 23 (West Lafayette, IN). Please join Us in celebrating both the outgoing and incoming Baron and Baroness!
In service to the MidRealm and Her people,
Nikolai & Serena
---
The Future Baron and Baroness
| | |
| --- | --- |
| Adhamh MacAoidh | Malie bean MhicAoidh |
| | |
Directions
Ross Camp
9225 W 75 S, West Lafayette, IN 47906
If you plan to come in on State Rd 26, be advised that you cannot go through campus, due to construction. We advise turning left (south) onto River Rd (43 S) and following it out to the site. Signs will be out at the intersection of US 231 & River Rd to guide you on out to the site.
Site Map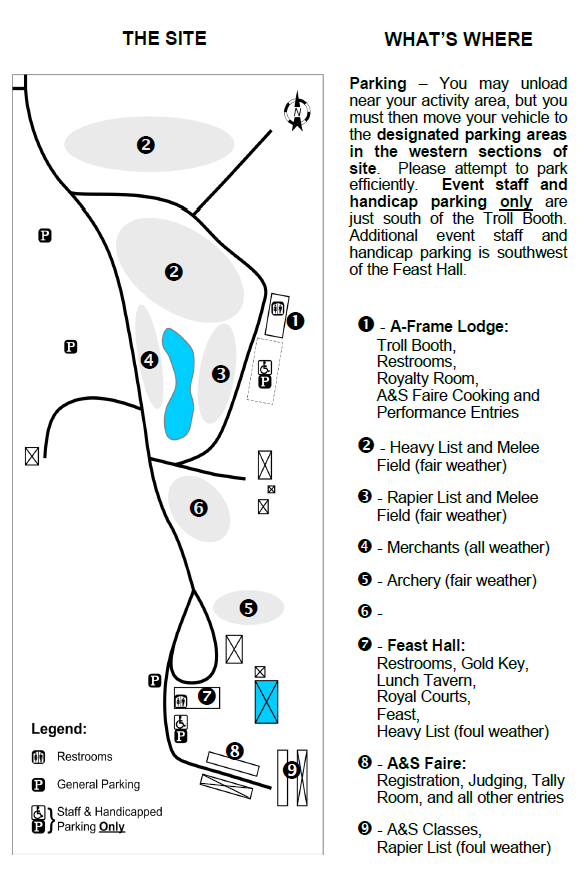 Schedule:
General
Classes
8:00
Troll Opens
9:00
Brewing 101
The Medieval Mount
10:00
Viking Knit
Dairy Culturing and Kefir
11:00
Japanese Dyes and Textiles
11:30
Gist of Giganti
12:00
Lunch
1:00
Lunch
Beaded Roses
Illumination
2:00
Beaded Roses
3:00
Russian Coats
4:00
5:00
Evening Court (Tentative)
6:00
Feast (After evening court or 6:30pm, whichever is later)
7:00
Dancing (After feast)
8:00
9:00
10:30
Site Closes
Merchant Information
Merchanting space is available. There is no fee, but no indoor space. Bring your own booth and tables. Any questions should please be directed to the merchant co-ordinator, Sigulf Karlnar (Richard Pierson).
Heavy Combat
8:00
Registration
9:00
Authorizations
10:00
Speed Tourney
11:00
Speed Tourney
12:00
Lunch Break
1:00
Single Pickups & Melee Practice
2:00
Single Pickups & Melee Practice
3:00
Single Pickups & Melee Practice
4:00
Single Pickups & Melee Practice
5:00
6:00
7:00
8:00
9:00
Archery & Thrown Weapons
8:30
Archery Authorizations
9:00
Archery Range Opens
Open Shooting
9:30
Novice & Competition Shoot
10:00
Speed Shoot Competition
10:30
Castle Challenge Shoot
11:30
Awarding Prizes
12:00
Lunch Break
Archery Range Closes
1:00
Thrown Weapons Range Opens
Tourney / Open Throwing
2:00
Tourney / Open Throwing
3:00
Tourney / Open Throwing
4:00
Tourney / Open Throwing
5:00
Range Closes
6:00
7:00
8:00
9:00
Fencing
THREE TOURNAMENTS AND A MELEE
(T1) Dawn of time.

Time: 9am-10am.
Format: Single elim, single pass. No late entrants. Must be inspected and ready when your name is called.
Prize: Ye Olde Scottee Dagger.

(T2) Royal Rounds.

Time: 10:30am-noon
Format: Double elim, best 2 of 3 to advance. Double kill results in loss of secondary object, then secondary hand, then legs.
Prize: One promissory note from Lady Fran&ccediloise for making a custom fencing hood or soft parry cloak to your design specification.

(T3) Passing the Torch.

Time: 12:30pm-2pm, or 15 minutes after the end of T2.
Format: Fighters will be split in two pools, "young" and "old" based either on time since first authorization, or on highest award received. Each "young" will select their "old" partner. The teams will participate in a double elim (perhaps single, depending on time and number of teams). Fighters will fight within their pool, facing their opponent twice, double kill is a win to each fighter. Highest total wins will advance. In case of a tie, a 2x2 "mini melee" will be done.
Prize: Pair of candlesticks, and pair of camp lanterns.

(M1) Warlord Melee.

Time: 2:30pm-3:30pm, or 15 minutes after the end of T3.
Format: adjusted random draw for first pairings (attempting to avoid fighting your local, or stacking the deck). All pairs fight at the lay on, and the warlord is responsible for finding their next opponent. Fights end when one warlord dies, the teams must be told who the warlords are. Single encounter, no DFB, no RBG. Team balancing in the final round on an ad hoc basis at marshal discretion, but consider "kill them fast" a tactical advantage in your race to the finals.
Prize: Wooden chest filled with goodies.

(M2) Regional melee practice

Time: 3:30pm-5pm.
Format: to be determined by the regional commander.
Prize: You get to be very tired.
---
8:00
Sign-in and Authorizations
9:00
Dawn of Time Tournament
Sign-in and Authorizations
10:00
10:30
Royal Rounds Tournament
11:00
12:00
Lunch Break
12:30
Passing The Torch Tournament
1:00
Passing The Torch Tournament
2:00
2:30
Warlord Melee
3:00
Warlord Melee
3:30
Regional melee practice and pickups
4:00
Regional melee practice and pickups
5:00
6:00
7:00
8:00
9:00
Constellation Regional A&S
We will be hosting the Constellation Regional A&S Faire in building 8. Rules may be found on this page. Criteria and signup can be found on this page. Please ignore the sign-up deadline - interested gentles may just create an account and sign up anyway.
Entries must be present by 10:00am
Judges/entrants will meet at 11:00am
Entries must be picked up before 5pm
Classes
We have ample space for classes and a great desire to share the Barony's passion for A&S at this event. If you will be teaching a class please contact the A&S Coordinator, so that she may put your class on the schedule.
Viking Knit - Metal jewelry for beginners
Japanese Dyes and Textiles
Russian Coats - 3 Coats, 1 Pattern.
The Medieval Mount - An introduction to the period horse and its cousins.
The Gist of Giganti for Novice Fencers

This class will introduce the concepts of late-period Italian fencing via Nicoletto Giganti's highly effective basics in a way that is totally accessible to newer fencers and seasoned swashbucklers alike. Students will gain an appreciation for the posture, guards, and essential tactics of this system's approach to the single sword and will leave equipped with a series of drills and exercises they can use to further their fencing
Masks, rapiers, and swords would be ideal equipment, please bring them if possible. Some loaner gear will be available.

Workshop: Manuscript Analysis

This workshop will let you get up close and personal with leaves from three period manuscripts. Participants will get a chance to practice critical analysis of various aspects of these pages, with ultimate focus on enhancing the authenticity of their own work.
No fee; no unaccompanied children, please.

Brewing 101 - Mead and Cider

This lecture/demo will give you the basic information you need to try your hand at making these classic beverages. We will make a gallon of semi-sweet mead, a gallon of cyser (mead and hard cider), and a gallon of hard cider.
Class limit 20, No fee, No attendees under the age of 21 (ID required)

Beaded Roses - Make a miniature rose in the style of 15th Century Venice beaded flowers.

$2 for materials, not recommended for gentles under 16. Limit 20 students.

Dairy Culturing and Kefir

The history of dairy fermentation, focusing specifically Kefir - how to make it and why to do so.
No age limit, no fee
Lunch
$5 per person, children under 5 free. Limit $20 for a family.
Chicken soup
Vegan soup with lentils or beans
Ham
Hard boiled eggs
Fruit
Raw vegies
Cheese
PB&J
Hot dogs
Sausages
Pita chips
Lemonade
Feast
If there are any special dietary needs, food allergies or other concerns, please contact the Feast-o-crat Marian Hryhorcova (MKA Marion Miller) before the day of the event.
On the table:

Bread
Sliced Cheeses
Cold Meats
Cottage Cheese Dip
Pickles

First Remove

Cauliflower Leek Soup
Scotch Eggs
Gougeres (cheese puffs)

First Interlude

Carrot and Grape Subtleties (will contain nuts)

Second Remove

Pork and Apple Pie
Fresh Green Salad

Second Interlude
Third Remove

Roast Gynger, Almond, and Lemon Chicken on a bed of Greens
Noodles Parmesan
Roasted Carrots and Parsnips

Desert

Surprise - Per Her Excellency Baroness Takaya Merelone - we aren't tellin' (may however, contain dairy)